Some of us believe that Esports and crypto can't go well together simultaneously, but that's not entirely true. Esports and crypto have come a long way through; by 2023, they can be considered the iconic duo for gamers. 
The video games business is a big one. If we talk about the last year, 2022, the video game industry boomed, and revenue of $200 Billion was generated globally. However, crypto has its role in Esports; how did it all evolve to this point?
If you are searching for answers and want to know more about the evolution of Esports through crypto, then you are in the right spot. Here we will discuss Esports's evolution through crypto and everything you need to know about it. So without further ado, let's get started!
Different Gaming Models In Esports.
Three basic gaming models are available in Esports. Below we have discussed them briefly.
Free-To-Play Model
The free-to-play model is the fundamental gaming model that started in the late 2000s. In this model, the games are essentially free. However, players can make in-game purchases to improve the games' features or give themselves a boost. The developers earn from in-game revenue, whereas these games are ready to be played once you download them.
Pay-To-Play Model
The most popular business strategy in the gaming industry comes with this model. The games of this model started in the 1970s and stayed trendy until the early 2000s. These games are usually played for the gaming experience, entertainment, and satisfaction. Some popular pay-to-play models include FIFA, Pacman, and many more.
Play-To-Earn Model
When discussing crypto, it's crucial to discuss the play-to-earn model. Though the otzher two models might not be linked to crypto directly, Play-to-earn models are a combination of entertainment and rewards within a game with the help of Blockchain technology or, specifically, crypto.
By playing play-to-earn games, players are rewarded with digital assets, which can be in the form of NFTs or crypto tokens. The best part about this model is that all in-game rewards and purchases of a player hold a particular value outside the game, even if the game is no longer there.
How Does Esports Evolve Through Crypto? What Role Does Crypto Play?
Though the futuristic play-to-earn model will undoubtedly change the gaming landscape, crypto is playing its role in Esports in general. And here, we will discuss how Esports is evolving through crypto.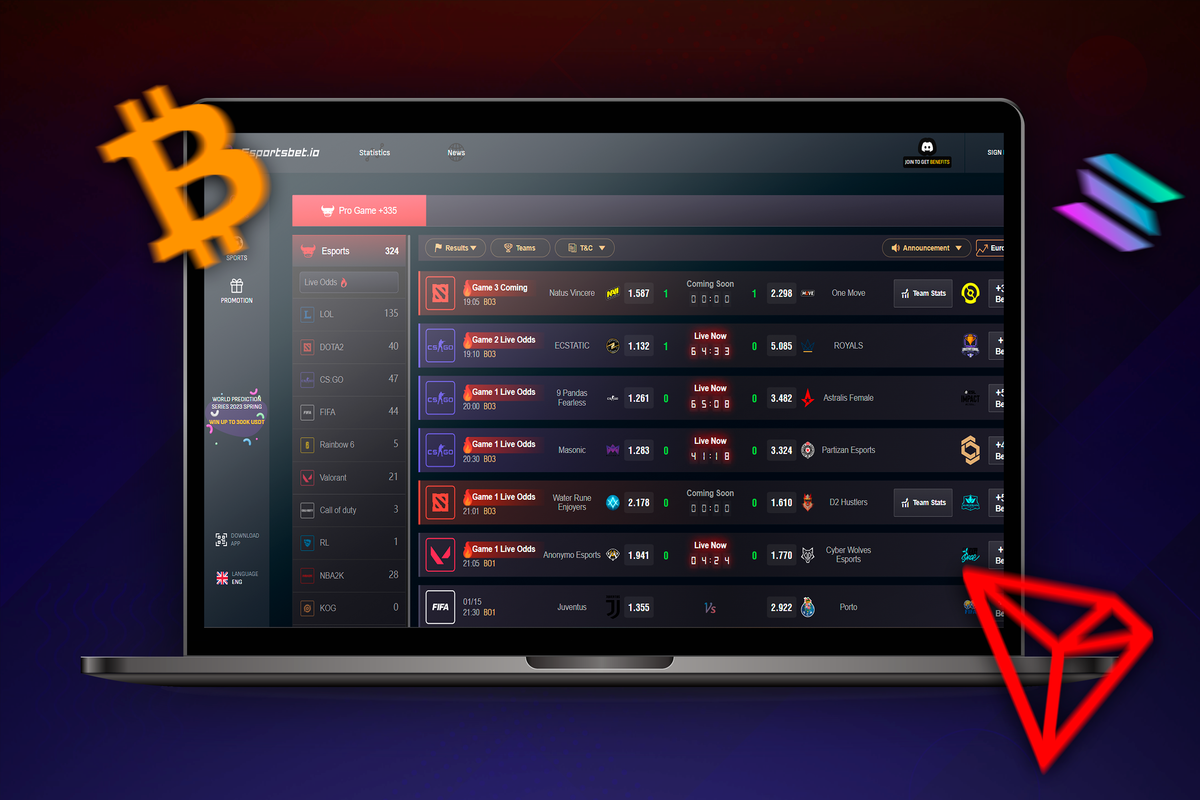 Esports Tournaments Can't Get Any Better.
Tournaments have come a long way in Esports. They complete Esports. And with crypto, Esports tournaments can't get any better. With crypto and Blockchain technology combined, the risk of fraud is eliminated from tournaments since everyone can access transparent records. This wasn't the case in Esports tournaments before crypto. 
When the games are played in a tournament, the game elements are all recorded on the crypto. What's remarkable is that the data can't be altered since the inputs are cryptographically signed. 
Furthermore, with crypto, the prize distribution is effortlessly done. Players don't need to manually collect their winnings and rewards since all will be transferred automatically once the tournament results are out. And since the data is all there, players can verify in case of tampering or cheating.
Incentive Schemes Can Be Implemented Via Crypto To Have An Audience.
Though hosting Esports tournaments is easy with crypto, having an audience for the different Esports tournaments is even easier.
With crypto, different incentive schemes can be implemented through which the viewers will get tokens based on their partnership and viewership as an audience. Having additional digital tokens can have an expanded value on various platforms.
The best part about this is that viewers and participants can do it all from home. With crypto and Esports, players are not limited to a specific location. They can play their part in the tournament from anywhere across the globe. This concept wouldn't be possible for Esports if it weren't for crypto and Blockchain technology.
Trading Of In-Game Assets Via Crypto.
Gamers always had a thing for trading in-game assets. Now, a trading platform can be developed via crypto and Blockchain technology to sell in-game assets.
Furthermore, with the timely adoption of NFTs in Esports, gamers can also become investors and traders. They can also utilise various NFTs to make fair trade of in-game assets.
Betting With Crypto On Esports.
Crypto has made betting on Esports easier and more convenient. Organizing a standard betting structure is no joke, and it is still a tricky process in various countries. Many players don't even have the option to bet in their currency, while others don't want to gamble because they are afraid to validate their identity, making betting impossible. 
However, crypto has now done its part with Esports betting. Now anyone can create a safe betting platform with crypto, which can be done through a crypto wallet. The best part about this crypto wallet is that all players can participate if they own any cryptocurrency. 
Using cryptocurrency is also convenient and better than digital payments as there will be no third-party man-in-the-middle. This means there will be little to no fees while betting on Esports events.
Want to gamble on Esports but can't find a reliable website? If that's the case, then don't worry because Esportsbet.io is the one-stop solution you will need. With esportsbet, you place bets with crypto! Furthermore, the platform has collaborated with various organizations like MoonPay, Vorp, and many more.
Don't own crypto? No problem, esportsbet can help you buy from the platform without worrying about security. The transaction process is seemingly smooth, and players can even check the change in the value of a particular crypto on the website.
Crypto Offers Different Exchange Options.
Don't skip this part if you have made it this far and feel like crypto is insignificant. There are a variety of things you can do with crypto. Perhaps, the most important thing you can do with crypto is exchange it for different things. 
You can exchange crypto with different cryptocurrencies or for real money, which could be in euros, USD, or even your local currency. This means that the crypto earned through various games and tournaments can be traded for real money, which was only possible for gamers after the concept of the play-to-earn model.
Conclusion.
Crypto with Esports is just an introduction to a whole new era. The possibility and ease crypto can bring to the Esports community are yet to be discovered to their maximum potential. So let's embrace ourselves and hope crypto with Esports offers players convenience.